Class G1 Licence Holders
Breaching any of the conditions of a G1 licence will result in a licence suspension, dramatically affect insurance rates.
G1 Drivers & Speeding Tickets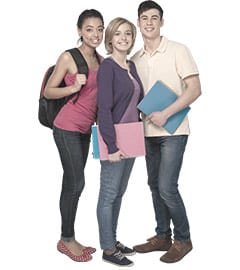 Class G1 drivers are considered to be "Novice Drivers" by the Ministry of Transportation.
Novice drivers have lower thresholds for speeding tickets and demerit points, that will suspend the drivers licence.
Speeding tickets can dramatically affect G1 drivers, as any conviction will result in two "lines" on the driving record.
the conviction for speeding
any licence suspension
Class G1 drivers are considered "Novice Drivers" under Ontario Regulation 340/94.
Demerit Points for Class G1 Drivers
G1 drivers obtain the same demerit points as other drivers but face licence suspensions at different levels.
As well any conviction for violating a class G1 Drivers licence condition will result in a dramatic increase to the insurance rates. The increase in insurance will be for up to three (3) years.
The increase in insurance rates will be because G1 driver will have two convictions on the driving record:
the conviction for the traffic ticket, and
Demerit Point Suspension – G1 Drivers
G1 drivers can only accumulate up to 5 demerit points. At 6 demerit points the licence will be suspended for 30 days.
Where a G1 driver receives any one ticket with 4 or more demerit points, the licence will be suspended for 30 days.
Tickets with 4 or more demerits include:
careless driving
following too closely
fail to stop for school bus
speeding more than 29km/h
Driving Conditions G1 Drivers
G1 Licence holders who breach any of the conditions and are convicted of the offence are be suspended from driving for thirty (30) days for a first offence.
G1 Licence holders must obey the following driving conditions:
blood alcohol level of zero
all passengers must have seat belt
must not use a cellphone while driving
not drive on 400 series highway, including

Don Valley Parkway
Gardiner Expressway
E.C. Row Expressway
Conestoga Parkway

must not drive from midnight to 5 a.m
class G driver must accompany at all times

G drive must have 4 years experience
blood alcohol must be under .05mgs
must be in front seat
Where the police find a G2 licence holder in violation the police may remove the driver and tow the vehicle.
G1 Drivers Conviction Penalties
The penalty for violating the Class G1 licence rules are:
a fine from one hundred and ten (110) to five hundred (500) dollars
thirty (30) day licence suspension
any applicable demerit points
dramatic insurance increases
Where the police find a G1 licence holder in violation any of the conditions, the police may remove the driver and tow the vehicle.
Licence Suspensions
Where a G1 driver is suspended for violating the Novice Driver conditions, the Ministry of Transport will notify the driver by sending them a letter in the mail.
Licence suspensions only start after a conviction has been registered at the courthouse and the Ministry of Transportation has been notified by the court.
The suspension is for 30 days and starts on the day the driver attends a Service Ontario location and surrenders the licence.
After the thirty days have past, the driver may return to the Service Ontario office and pay a reinstatement fee of 281 dollars and the licence will be reinstated.
Escalating Licence Suspensions
Any conviction for a G1 Novice driver offence will result in a thirty (30) day licence suspension for a first offence.
Addition convictions are dealt with by an escalating suspension for six (6) months e.g. if convicted a second time the drivers licence suspension would be for six (6) months.
After the suspension period has past the driver will be required to pay a one hundred and eighty (180) drivers licence reinstatement fee to the Ministry of Transport.
Speeding Tickets
G1 drivers accumulate points in the same manner as other driver licence classes for speeding tickets, but have lower thresholds where upon licence suspensions occur.
The penalty for speeding in addition to any fine are:
0 to 15km/h

fine only
no demerits
no licence suspension

16km/h to 29km/h

fine
three (3) demerits
warning letter issued
no licence suspension

30km/h to 49km/h

fine
four (4) demerits
30 day licence suspension

over 50km/h

fine, six (6) demerits
immediate seven day suspension
vehicle impoundment for seven (7) days
possible jail up to six months
thirty (30) day to two (2) year licence suspension
high risk insurance rates for 3-5 years
Any speeding ticket will affect the insurance rates for novice drivers.
Any accumulation of speeding tickets will make the driver uninsurable with further and increasing licence suspensions.
Convictions
G1 licence holders accumulate points from traffic tickets like all drivers, but the threshold before a licence suspension is dramatically lower.
Speeding

for thirty (30) kilometres or more than the speed limit
four (4) demerit points.

Following Too Closely
Careless Driving
Fail to Remain at the Scene of an Accident
Stunt Driving

immediate 7 day suspension
thirty day suspension upon conviction
possible additional two year suspension
G1 drivers convicted of traffic tickets, who receive demerit points or are involved in accidents will learn that many insurance companies will be hesitant to offer insurance.
The insurance for a G1 driver will very expensive or the driver will be placed in "high risk insurance" rates.